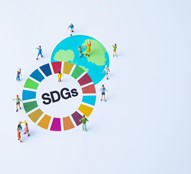 PFIZER COMBINES SUSTAINABLE BUSINESS PHILANTHROPY – AN APPROACH TO ACCELERATE UN AGENDA 2030
AUG 09, 2018
Whether you are taking a look at its business model or its corporate headquarters in New York City, it does not take long to realize that Pfizer is all in on the U.N.'s Sustainable Development Goals (SDGs).
Pfizer was the first multinational pharmaceutical giant to join the U.N. Global Compact in 2002. Now, the company is utilizing its resources in conjunction with SDG 3 (Good Health and Well-Being), to bring health care to people around the world — but the company is not stopping there.
Understanding its role as a global leader in care, Pfizer has moved to bring its business and social initiatives together, explained Chris Gray, senior director for institutions and public reporting. The results have led to a cohesive business plan while also advancing the greater good through the SDGs.
"The way in which Pfizer and other corporations are addressing these types of societal challenges [addressed by the SDGs] has evolved significantly in the past decade," said Gray during a recent edition of 3BL Media's webcast series titled "Aligning Business With the Global Goals." "We approach our social mission in a much more holistic manner today with the SDGs, including not only traditional philanthropy but a blended approach through commercially and socially sustainable business models and many more partnerships. We have the passion and commitment among our employees and our leadership to be addressing the goals that were set by the U.N. under the SDGs."
Pfizer sees a connection between its work with SDG 3 and the other 16 goals laid out by the U.N. almost three years ago. Gray explained the interdependency between the goals means that making good health care accessible could, for example, keep children in school and allow women more freedom to pursue opportunities. This is a driving force for the company's corporate responsibility goals, made evident by its 2017 Annual Review, and has led to numerous present and future initiatives to achieve various health targets within SDG 3.
But how does a Fortune 500 company, or any company for that matter, strike a balance between people and profit? According to Gray, the process starts by properly positioning the SDGs in business terms for Pfizer's commercial partners.
While substantial investment will be needed, the Business and Sustainable Development Commission (BSDC) estimated that fulfilling the SDGs could lead to $12 trillion in estimated market opportunities across food and agriculture, cities, energy and health and well-being. According to the BSDC's 2017 "Better Business Better World" report, health-related opportunities within the goals have a potential value of $1.8 trillion in 2030.
"The role of the business sector is critical, and what we found was some of the support we need internally from our business colleagues requires some proofpoint," Gray said. "Some of the thought leadership, research and publications that have come out around the SDGs provides a more precise articulation around the alignment between the private- and public-sector benefits. As we work to marshall the engagement and commitment of our commercial colleagues, these types of engagements are really important."
https://www.triplepundit.com/story/2018/pfizer-combines-sustainable-business-philanthropy-holistic-approach-sdgs/11211
Sunday - October 31, 2021
Leave a Comment
This Feature Coming Soon!