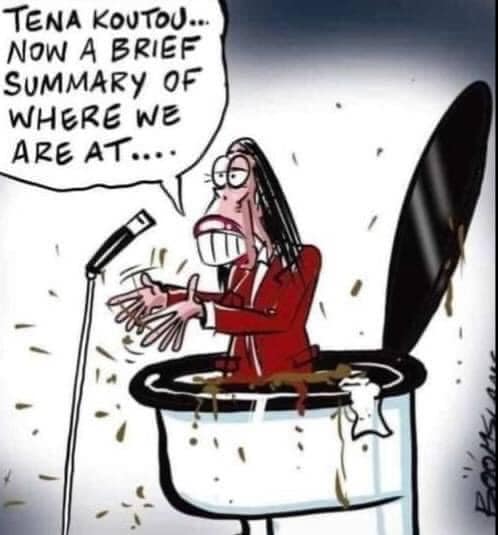 ARDERN PROMISED KIWI'S TRANSFORMATION- AND THAT'S WHAT WE HAVE 'A GODLESS EVIL TRANSFORMATION'
Ardern boasted in her speech of 2019 at the DAVOS gathering how she was the first in the world to introduce a 'Wellbeing Budget'. Now on her 4th 'Wellbeing Budget' of 'Looking Beyond Growth'. Under Arderns authoritarian Government 'what's growth got to do with it'? ZILCH.
Institutionalised Racism had bludgeoned our beautiful New Zealand.
Hundreds of people sleeping in cars.  Children that have never known a permenant roof over their heads to call home. Individuals, Families living in Motels . Its hard to believe that once we were a nation of Kiwi's that were able to live the dream have our own home.  Now we must expect that our grown ault family will have no place to live and therefore return home to the family nest. Automony lost, building worth in life through innovation and achievement being destroyed.
Those that have managed to save 10% deposit for a house are not about to find that their equity of 10% will potentially decrease to 1% as house price decrease and mortgage interest rates increase.
The downward hill of the plundering of New Zealand started some time ago, it has become more evident as it is much more advanced now, in your face so to speak. The transformation that Ardern did not publically speak about was the plundering of small businesses, jobs in New Zealand, the farming community, to replace the Free market economy with a Multistakeholder Corporate economy.
High density housing is all part of the plan UN Habitat 3. All major cities in New Zealand will become high density, highly populaties cities with increased surveillance. Increased migration from third would countries, the deliberate destruction of nationhood.  UN Assembly- it was announded that Nationalism is a threat to multilateralism.  Multilaterism  (globalism). Nationalism equals tradions, cultures, loyalty to your own country, law abiding citizens that have been labelled as far right, right wing for standing up for human rights, civil liberties in our nation, our beautiful country of New Zealand thats be tarnished and stained with a Godless evilness of Marxist, Leftist, Socialist Authoritarism with over-riding characteristics of Communism. New Zealand sadly I say has become a police state.
NOTE:  CLICK ON THE IMAGE ABOVE THIS WILL LINK YOU TO MY RUMBLE VIDEO AS TO MORE INFORMATION AS TO ARDERNS TRANSFORMATION OF NEW ZEALAND.
Friday - September 2, 2022
Leave a Comment
This Feature Coming Soon!